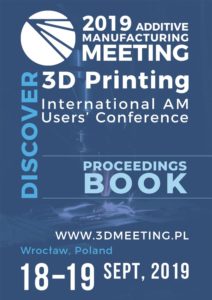 Mechanika / Publikacje elektroniczne • plik PDF
Additive Manufacturing Meeting (AMM) is an annual event, organized by Centre of Advanced Manufacturing Technologies (CAMT-FPC) and Faculty of Mechanical Engineering of Wroclaw University of Science and Technology. Since this year AMM became a conference.
The AMM conference is focused on building a platform for an exchange of knowledge and experience between research and industrial institutions in the field of Additive Manufacturing ("3D printing"). The conference program addresses issues like CAx modeling, manufacturing, new materials, process development and AM applications.
The plenary talks within the Conference are held by highly qualified experts and researchers of AM industry from Poland, Austria, Czech Republic, Finland, Germany, Ireland and Singapore. For the first time, students, Ph.D. candidates and young scientists (up to 35 years old) have the opportunity to present their achievements in the development of AM during the Young Scientists Poster Session on the second day of the conference. Different formats are used at the Conference AMM2019 including plenary talks, workshops, poster session, technical exhibition as well as lab visit to CAMT-FPC. Apart from the main program, AMM networking session is an excellent occasion to establish business contacts between representatives of universities, research centers and industry. Such variety of activities contributes in creating a common platform for exchange of knowledge and experience both in the field of industrial solutions and research development in the field of AM.
The AMM program is designed to challenge and inspire you in the field of additive manufacturing industrial implementation. The thematic panels of this year' conference are Analysis and Simulation, Biomedical Applications, Novel Applications, Business Solutions in AM and Industrial Cases of AM Implementation.
The AMM Conference takes place in Wroclaw, one of the most beautiful cities in Poland. Wroclaw is a very picturesque city with a large number of green areas, parks and 115 bridges across 5 rivers crossing the city. Wroclaw is an excellent example of a multicultural metropolis located at the crossroads of ethnically diverse regions.
We are delighted to meet all our speakers, partners and participants at the 3rd International Conference "AMM: 3D Printing in Industrial and Medical Applications"!
Organizing Team of AMM2019
Publikacja bezpłatna
Format: A4 • Rok wydania: 2019
ISBN 978-83-7493-097-0

Nośnik: plik PDFPobierz

DOI: 10.5277/amm-2019-proceedings-book